The impact of the Future Stars program on junior and champion curlers.
By: Jillian Kent
Imagine: The lights are dim, but you can still hear the sounds of the crowd filling the seats around you as you step onto the ice, the only point of light in the darkened arena. Above you, your own face smiles on the giant screens as they announce your name – it's real.
Now imagine you are between the ages of 9 and 16 and not only is this happening, but you are standing side by side with your curling heroes, the curling champions you have admired for years. Imagine the impact that provincial, Canadian and world champions can have on a young curler. This is the experience that the Future Stars program has created for young people across Canada since 2016.
As Abbie Darnley, youth coordinator at the Stroud Curling Club, reflected on the experience her 20-plus kids from her Little Rock program had at the 2023 Brier in London, Ont.: "I think it's the experience to be part of the big show that will bring them back. Even if none of us [youth] never become high-level curlers, I believe they will continue to actively participate in national championships, whether [as] volunteers or supporters in the stands.
Whether at the Canadian Men's or Women's Championships or the BKT Tires & OK Tires World Men's Curling Championship, held in Ottawa last season, the enthusiasm and response from the young people involved in the Future Stars 2023 program was the same. All the young participants were delighted to receive time from the curlers and showed great enthusiasm for the merchandise offered to them. Almost all of the kids involved were reluctant to take off the team jackets they were given even once they got home and were excited to show them off at school the next day.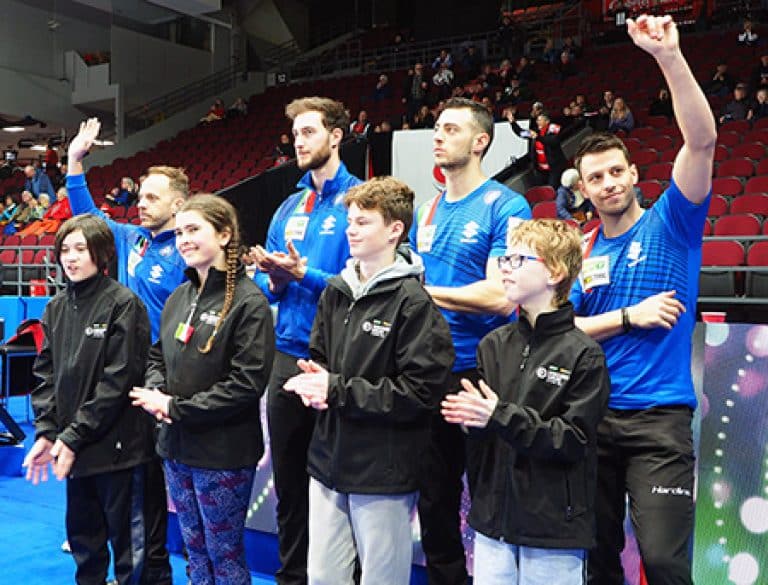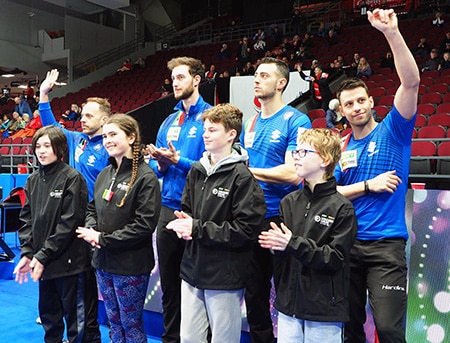 Team Brad Gushue, representing Canada at the BKT Tires & OK Tire World Men's Curling Championship, presented its future stars with signed brush covers, sparking discussions about "the merits of using the heads of special curling broom or keep them as souvenirs!
Kristen Windsor, mother of Julian, a future star at the 2023 Scotties Tournament of Hearts in Kamloops, British Columbia, said, "This experience absolutely strengthened their bond with curling. This experience made them want to go play more, watch more TV and learn more about the teams that inspired them to go home and write their own curling goals. The Brier and the Olympics are the main big goals they are currently pursuing.
Although it wasn't just about their own curling future, the program sparked a passion. Kristen said: "Julian is determined to make curling as inclusive as possible and inspire as many people as possible to try this incredible sport. He will even contribute to a bottle drive to raise funds for the Kamloops Junior Curling League.
The Future Stars felt the impact of their meeting with these curling champions, even before they met. Several of them, especially during the world championships, brought gifts to give to their curlers. Their local club pins were popular, but sometimes Future Stars went further. A young participant associated with the Norwegian team learned Norwegian phrases to greet her team in their language, and another Future Star knitted small Italian flags for herself and her curlers from the Italian team. The New Zealand team perhaps walked away with the biggest windfall, as one of their future stars collected a basket of all their favorite Canadian treats to welcome them and provide them with snacks for their busy week of curling.
No matter who you talk to, all the curling champions expressed the importance of the program and the enjoyment they have interacting with the kids.
Shannon Birchard, second on Canada's Kerri Einarson Team at the 2023 Scotties, said: "A lot of kids are pretty shy, but as a once shy kid, meeting my curling heroes at a young age has had a huge impact on me and sparked my own dream of becoming an elite curler. "To think that we could have that kind of impact on them is one of the reasons why we present ourselves on the national and international stage. »
At the 2023 Brier, the Northwest Territories team was paired with a big Future Star, so captain Jamie Koe dug through his own bag to find a jacket that would fit them well.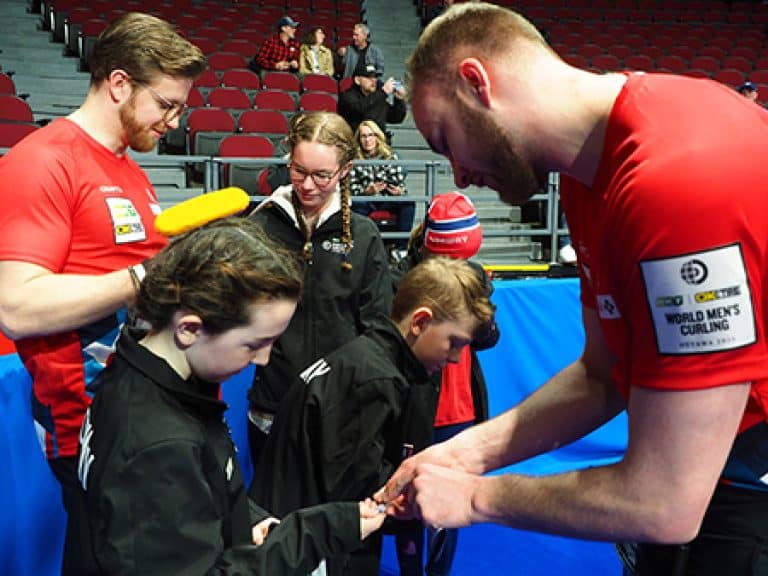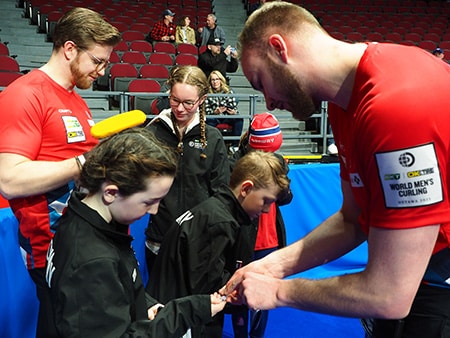 "These kids have been selected," Koe said, "and we want to make sure they have the best experience possible to truly become future stars of this sport. Seeing them smile and enjoy receiving the gifts also benefits us as a curlers.
While all branches of the Future Stars program provide important experiences to selected youth, there is an added element to the World Championships as youth are invited to interact with champions from around the world.
"The international curlers are all commenting on the heat, exuberance and size of the Canadian crowds," said Lynda Kemp, Director of Ceremonies and Game Days at the 2023 BKT Tires & OK Tire World Men's Curling Championship: "Some have explained that their national level competitions would have tens, not thousands, of spectators. It was great to see the youngsters receive this level of attention during their final match and the international teams also felt appreciated and celebrated through the program.
Team USA's Matt Hamilton did his best to have meaningful conversations not only with his own team's Future Stars, but with any Future Stars that coincided with one of Team USA's games – which made an impression on at least one Future Star whose parent was later wrote to Lynda to thank them for the experience. This interaction with international teams also provides valuable cultural awareness; The Türkiye team donated t-shirts to earthquake relief, making this global issue much more relevant to young people who would see it on television.
Tracy Fleury, third on the Homan team, sums it up perfectly: "Young curlers are the future of our sport. It is important to give them exposure to a competitive environment and allow them to build relationships so that they can have resources and support teams to help them succeed in their future curling career.
The 2023-24 Future Stars program is actively recruiting young curlers aged 9 to 19, as part of the following Season of Champions events:
2024 Scotties Tournament of Hearts, open to youth from the Calgary area – application deadline is November 1. 15
2024 Montana Brier, open to youth from the Regina area – registration deadline is November 1. 15
2024 BKT Tires World Women's Curling Championship, open to youth from the Sydney, Nova Scotia area – application deadline is November 1. 22
"Web specialist. Social media ninja. Amateur food aficionado. Alcohol advocate. General creator. Beer guru."